David McClelland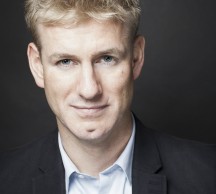 Broadcaster and Journalist

David is a broadcaster and journalist specialising in technology, gadgets and science. He has appeared on BBC national and regional television and radio, as well as C4, Bloomberg and CNN. Currently he can be seen on screen as the Golden Girls' regular consumer technology expert on BBC1's Rip Off Britain.
David has been a trusted face and voice of brands as diverse as O2, Adobe, Tech City UK, SAp, National Grid, Microsoft, Sony and the Environment Agency, presenting all manner of content from live broadcasts to promotional videos and e-learning.
David has worked as the host of the UK's first ever Creative Week, an ambitious week of live online broadcasts powered by Adobe; he is host of The Innovation Show, a technology show from SAP showcasing online what's new and innovative in technology. David is also a presenter for O2 Guru TV, including its Inspire channel on smartphone creativity and Fast Forward, a monthly show all about future technology.
In November 2012 David was host of The HUB Theatre at the Gadget Show Live London for which he produced his own show, World's Coolest Cameras.
He has worked in both media and technology for over 15 years in a career that has seen him travel the world talking tech with Reuters, dismantle iPhones for the BBC, make big robots do silly things at IBM and get booed off the stage in the West End.
David also writes about consumer and enterprise technology. He is a Consulting Editor at Computing Magazine, regularly presenting its live online broadcasts and events including the prestigious IT Leaders' Forum; he writes and blogs about smartphones, tablets, digital cameras and all manner of gadgets for titles including Wired, Computer Weekly and CNET, and edits a magazine column about parenting and technology for the NCT.
Back to Speakers